About Us
Array構建了全球性能最佳的 SSL VPN 以及負載均衡解決方案,並第一個應用 SSL 技術在點對點安全通信的環境中。靈活強大的 Array SPX 系列訪問閘道讓企業和服務供應商們可以在世界任何地方、通過任何一種設備、快速安全的為他們的授權用戶提供一切的應用服務。
Array Networks 創建於2000年,是漢鼎亞太 (H&Q Asia Pacific) 美國風險投資合夥人 (U.S. Venture Partner) 共同投資的私營公司。自創建以來,Array Networks 已穩步成長為SSL VPN 領域的市場領導者。公司業務收入逐年增長,前景十分美好。公司總裁兼首席執行官趙耀先生是亞洲知名的行業領導者之一,擁有20餘年在互聯網基礎設施公司和系統集成公司擔任高級管理人員的經驗。
近年來,Array Networks進一步成為網路功能平台公司,以提供企業佈署虛擬網路環境、安全性設備和應用交付控制設備的解決方案為主。以公司位於加州矽谷的總部為研發重心,著眼於網路功能虛擬化(NFV)、雲端運算及以軟體為主之網路等高度成長市場。全球已有5000家企業客戶,並獲產業重量級分析師、企業、服務供應商及銷售夥伴認可,可提供量化同時保有敏捷性之下一世代技術。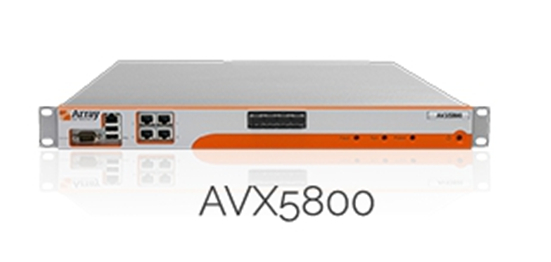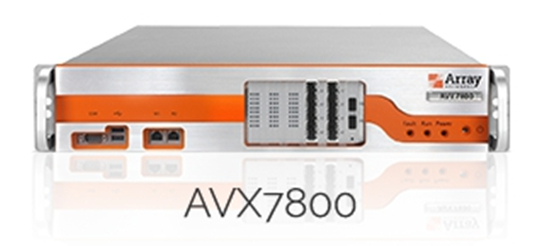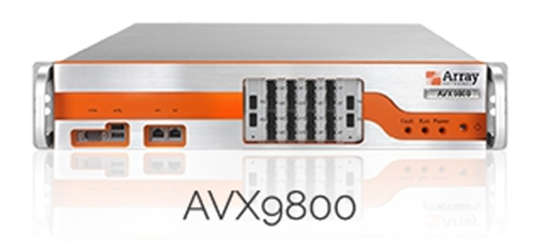 Multiple Network Functions
AVX Series appliances can host vAPV virtual application delivery controller (ADCs), vxAG virtual secure access gateway (SSL VPNs) or 3rd-party networking, security and application delivery functions, and can mix and match virtual appliances as needed to meet deployment requirements. Visit our Platform Ecosystem page for more information on 3rd-party VA support.
Flexible Size Options
AVX Series appliances can host four different size vAPV, vxAG and 3rd-party instances: entry, small, medium and large. Instances of different sizes can be mixed, matched and fine-tuned as needed to meet deployment requirements. Smaller sizes will allow for more instances per system, and larger sizes will allow for greater performance per instance. The AVX3600 and AVX5800 can host shared-entry instances which offer best-effort performance for smaller workloads where density is a primary consideration.
Array
 

AG Series

 

SSL VPN Appliances
Pay-As-You-Go Capacity
AVX Series appliances support pay-as-you-grow licensing, allowing you to pay for the VA licenses you need today and purchase additional licenses as needed to meet future deployment requirements up to your system's capacity. Array virtual ADCs and SSL VPNs are also available in economical bulk license packs for the AVX Series.
Guaranteed Performance
Each vAPV, vxAG and 3rd-party instance is automatically assigned dedicated CPU, SSL, memory and input/output interfaces to ensure guaranteed performance per virtual appliance. In addition, dedicated resources are reserved for hypervisor management to eliminate virtual machine contention and enable SLAs for business-critical customers and applications. For shared-entry instances, available only on AVX3600 and AVX5800, best-effort performance is provided.

Array
 

AG Series

 

SSL VPN Appliances
Enterprise
Array SSL VPN appliances allow enterprises to consolidate remote access for employees, partners, guests and other communities of interest on a single platform to minimize potential attack vectors, improve operational efficiency and provide a superior end-user experience. Drive productivity enterprise-wide, while keeping cost and complexity at a minimum.
Cloud
For cloud service providers standing up data centers and points of delivery around the world, Array secure access gateways provide a means to securely access cloud infrastructure and services from anywhere on any device. Leverage fully-partitioned virtual portals to enable segmented access for provider and customer administrators to specific networks, infrastructure and services.
Mobile
Whether you need to provide secure connectivity for native business applications or securely mobilize virtual desktops and applications, Array secure access gateways enable secure mobile access from smart phones and tablets including both Android and iOS devices. Create a secure mobile strategy around either managed devices or bring your own device (BYOD).
Business Continuity
Array secure access gateways are capable of supporting an entire enterprise user base on a single appliance without impacting the end-user experience. When the unforeseen occurs, and working from the office is simply not an option, any number of employees may seamlessly log in and remain productive leveraging Array's cost-effective contingency SSL VPN user licenses.
Array Network Functions Platform
台灣區代理商 亞利安科技
CipherTech亞利安科技創立於2007年 1月,是資安軟、硬體設備代理商及服務供應商,專注於全球領導品牌產品之代理銷售,熟悉各產業需求,以深厚的技術、專業且快速反應的態度為客戶服務,無論是單一產品規劃,或是多產品整合應用,都能滿足企業各個環節的需求,提供企業最佳的資安解決方案。